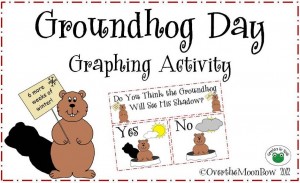 I love Groundhog Day! My students always get so excited when we read a story about Phil, make predictions, and then watch the news video online to check if he sees his shadow. I made this graphing activity to use with my class, I hope you have fun with your class too. February 2nd is right around the corner!
You can download it free from my TpT store or my Teachers Notebook shop. Enjoy!
Here's link with some history about Groundhog Day from the Punxsutawney Groundhog Club.
Take care,
Dee:)